"I live in the very small house, but my windows look out on the very large world."
Confucius

WITH THE CAMERA AROUND UKRAINE
An Illustrated History of my Travels (by Oleg Baranovsky).
Devoted to all my friends who accompanied me on my not-allways-easy paths.
---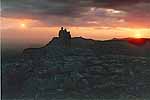 This project is nothing more than just an illustrated history of travels in the mountains of Ukraine with the photographs some of us have made. You can read about me and other authors of these pages here.
This story will grow continuously as we will make new travels and bring new fresh pictures. Probably it will have stories not about only Ukraine but other other countries we are planning to visit.
With this homepage I wanted to share my excitement, my admiration of Mother Nature and my enthusiasm with you and hope this will inspire you for your own travels and your own stories I will be glad also to read. Just tell me what you think...

Pictures from our trip to Crimean Mountains, Sudak and Novyj Svet during April 30 - May 11, 1998.


See also some pictures from my last travel to Ukrainian Karpathians and Mount Hoverla during August 21-29, 1998.

<! ------------------------------------------------------------ >
To be continued...
This project is in the process of creation. Please come back soon and see the changes being made.
Also you may subscribe our "With a Camera About Ukraine" mailing list in order to get informed about new arrivals here.
---
<! --- U A Z o n e ---- >

See also my other projects on Ukraine:
Kyiv Photo Gallery - a growing collection of pictures of Kyiv - the capital of Ukraine made by me and donated but other people.

Hryvnia - The New Ukrainian Currency with the pictures of new bills and current exchange rates.

Ukraine Factbook - the comprehensive data source about Ukraine and Kyiv. Just everything you wanted to know before arriving in Ukraine.
See also some other pictures of Crimea:

---