"Omni mea mecum porto."
Everything mine carrying with me.
Latin proverb.

ON THE TRAILS OF CRIMEA
A Hiking Story.
---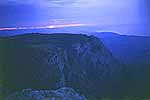 The territory of Ukraine is almost everywhere plain, covered with forests or steppe and thus is not very interesting for hiking. But there are part of the Karpatian mountains on the west and Crimea with its mountains and plains at the south. And these are the places where the most Ukrainians tend to spend their vacations.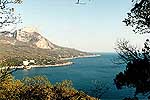 Crimea is quite an interesting place. Everything is mixed here -- different peoples and cultures, different epochs, even different climate zones. From the ruins of Khersones -- an ancient Greek city not far from Sebastopol, through the monuments of medieval age like florentian fortress in Sudak to the modern buildings and resorts of current days.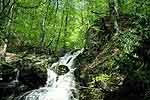 It is also quite a marvelous place for hiking, rapelling and other kinds of outdoor tourism. Crimea as well is a center of hang-gliding and bicycling. There were a number of well organized tourist trails in Crimea, but they mostly fall into a state of total neglect now. Anyway, you can always take your backpack and go there. Even if there's no comfortable camping waiting for you in the deep forest (so, you will have to bring your camp and sleeping bag with you).
I myself had walked it all along and across and here would like to share some personal impressions with you. Here I will describe mostly my last journey taken May 1997, but I will also make some lyrical digressions along my way.
Most of the pictures here are taken during this last trip, but there are some from my other travels.

Day 1. The Beginning.
There are a lot of directions you may choose to go in Crimea, but this time we decided to come through so called 'Big Canyon of Crime' and coming southwest and to come out to the Seaside in the surround of Foros. The last is a small city on the Black Sea coast which got well known during the August coup d'Etat of 1991 in Soviets when USSR President Michail Gorbachev was locked there for few days.
The Big Canyon of Crimea is obviously nothing in comparison to Colrado's Canyon, but it is quite an interesting place, however. And it is known attraction for hikers.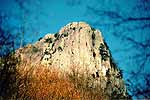 So, we went from Kiev to Bakhchisaray city by train, hired a truck there and moved to Sokolinoye -- the small village at the foot of so called Eaglerock mountain (see the right). It was April 29, 1997.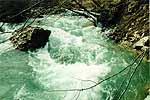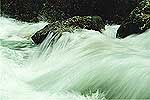 The river which goes through the canyon is one of the most full-flowing in the Crimea and here it makes some beautiful small waterfalls and whirls. This spring was extremely wet, so the river was most full water than I've ever seen it. The road was swamped in few places and we had to go by feet's about 5 miles to our first camping.
We found some good crevice in the rock near ther river and put our camps over there. The place was really good, protected from the wind and, despite of being just in few meters from the river, relatively dry. We crowded all around the fire and made our first picture of all our team.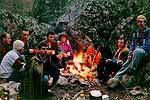 Some our most brave individuals, including of cause myself even jumped into the river to have a bath. We, naturally, ran out of there just the same moment as the water was not more than 5oC ( 40oF).
It was a marvelous evening with a sky full of bright stars. We were on the very beginning of our 10 days long way. We didn't care about tomorrow. We just escaped from our jobs and were simply happy enjoying our lifes right now, at this very moment in this wonderful place...


---
<! --- U A Z o n e ---- >