"Tact is the ability to tell a man he has an open mind when he has a hole in his head."
???

FEW WORDS ABOUT OURSELVES
---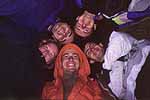 Well... My name is Oleg Baranovsky and I work as a System Administrator at the US Embassy in Kyiv, Ukraine. You can read more about me at my personal Homepage at the Embassy.
You may check also my other projects:
Ukraine Factbook and Traveler's Guide.

Or if you are really interested you may read my resume here.

There are also few other persons, who participated in this project. They are Boris Samoilenko and Volodymyr Onufrienko. Some good pictures here belong to them. Both of them are working as professional photographers now. And of cause I can not come through Pavel Tishchenko, who was organizing, accompanying and inspiring us all this time.
---