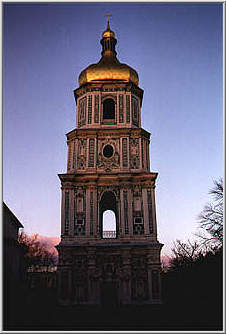 SAINT SOPHIA CATHEDRAL
Sofiysky (St. Sophia's) Monastery. The ensemble was built over a period of nine centuries. The complex includes:
Sofiysky (St. Sophia's) Cathedral. Constructed in 1017-31 in honor of Prince Yaroslav the Wise's victory over the Pecheneg tribe. Was the main metropolitan church of Kyivan Rus'-Ukraine. Ceremonies to designate envoys, public meetings, and the writing of chronicles took place here. The first library in Kyivan Rus was located here. The cathedral bears a resemblance to Byzantine constructions, but there is no direct analogy. The original forms of the Romanesque style were preserved until the 17th century. The church facades were not plastered and were embellished with decorative niches, ornaments, and paintings. The interior reveals the harmonious union of mosaics and fresco paintings in a style similar to the Byzantine capital style. Religious and secular themes predominate. Of great value are the decorative works of the 11th century: the Metropolitan's chair, choir loft. The interior of the cathedral is also embellished with fresco ornamentation, mosaic floors, marble decorations, etc. The cathedral contained the tomb of the great Kyivan princes: Yaroslav the Wise, Vsevolod, Rostyslav, and Volodymyr Monomakh were buried here (only the sarcophagus of Yaroslav the Wise has been preserved). After the Tatar-Mongol invasion of 1240, the cathedral gradually fell into ruins. In the 16th century Greek Catholic priests served Mass here. In the 1630's-40's the Kyivan Metropolitan P. Mohyla founded a men's monastery in the cathedral. He engaged the Italian architect O. Mancini to work on its restoration. In 1685-1707 the cathedral was rebuilt in the Ukrainian Baroque style. A Baroque iconostasis was built in 1731-47. St. Sophia's Cathedral is a masterpiece of world architecture.
Bell Tower, 18th-19th century. A four-storied structure, with a height of 76 m. The first story shows features of Ukrainian architecture of the late 17th-early 18th centuries; the second and third stories are embellished with molded decorations in the Ukrainian Baroque style. Ornaments in the pseudo-Byzantine style are featured in the fourth story.
Trapezna (Refectory) Church (Small Sophia), 1722-30. Rebuilt several times, acquiring Baroque forms in the process.
The monastery complex includes several examples of 18th century civil and defense architecture.

reprinted from Ukraine, A Tourist Guide
Compiled by O. Zinkewych, V. Hula,
translated by M. Olynyk
Smoloskyp Publishers - 1993
Ukrainian Banner Network